Musashi - The Design Bicycle Company
From 1980 until 1984 Musashi Design Bicycles have been developed in Japan and Germany and were assembled in Hamburg, Germany.
Less than 1000 bicycles have been built and yet these bicycles had a great impact to the way bicycles were designed.
Musashi bicycles have been presented to the major international bicycle shows in Milano, New York and Cologne and were photographed by many global bicycle manufacturers and thus copied in style. Namely the JIVE model line became the blueprint for generations of bicycles all over the world.
The most unusual model lines were the Bamboo design bicycles called "Bamboo Machines" and the fabulous "Aero Cruisers".
The retail prices ranged from US$ 350 to US$ 700 and yet quality and craftmanship were not compromised.
So most of these bicycles cruise the roads until today.
This website is a memorial for those people who own and value one of these exclusive bicycles.
If you own a Musashi bicycle, please contact me and let me know about your bike and it's known history.
And now enjoy a scan of the original Musashi product catalog from 1982 .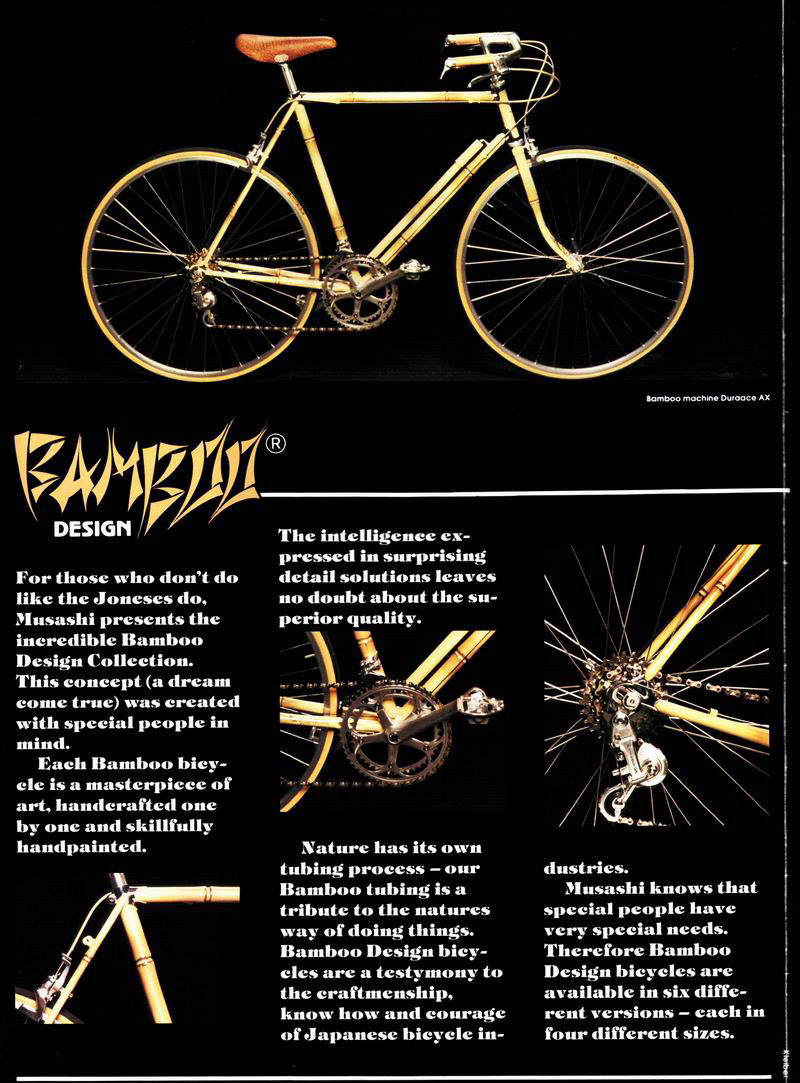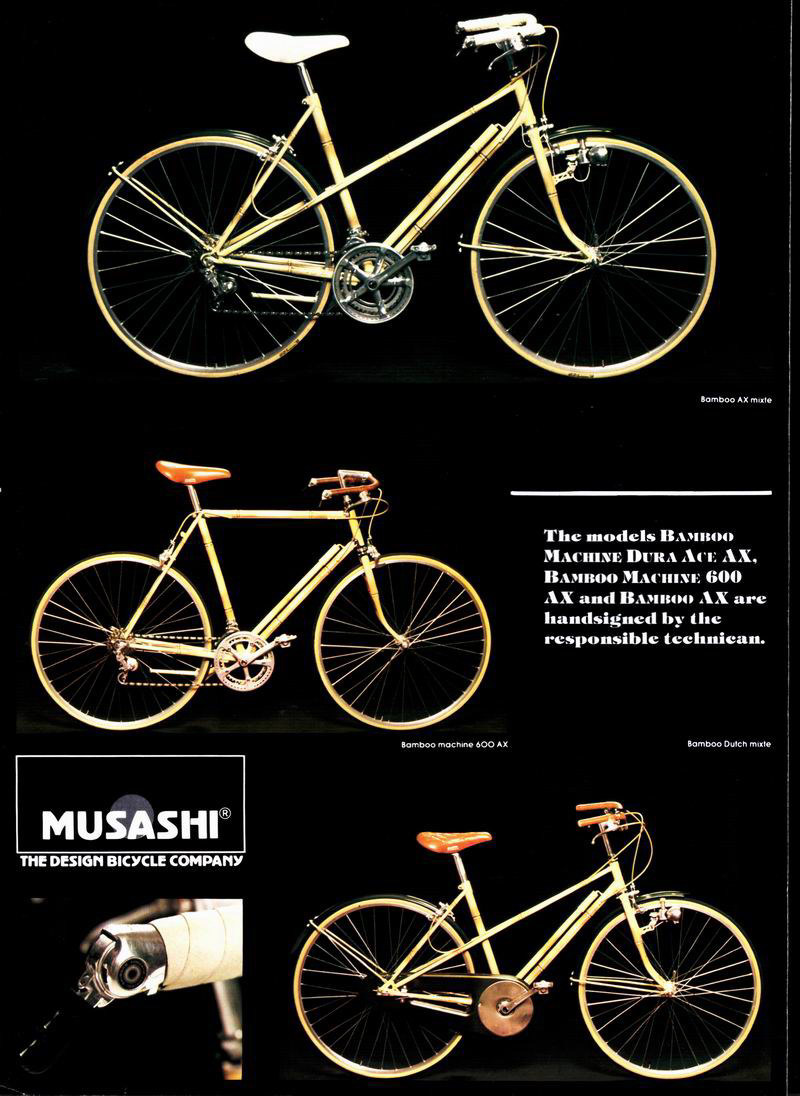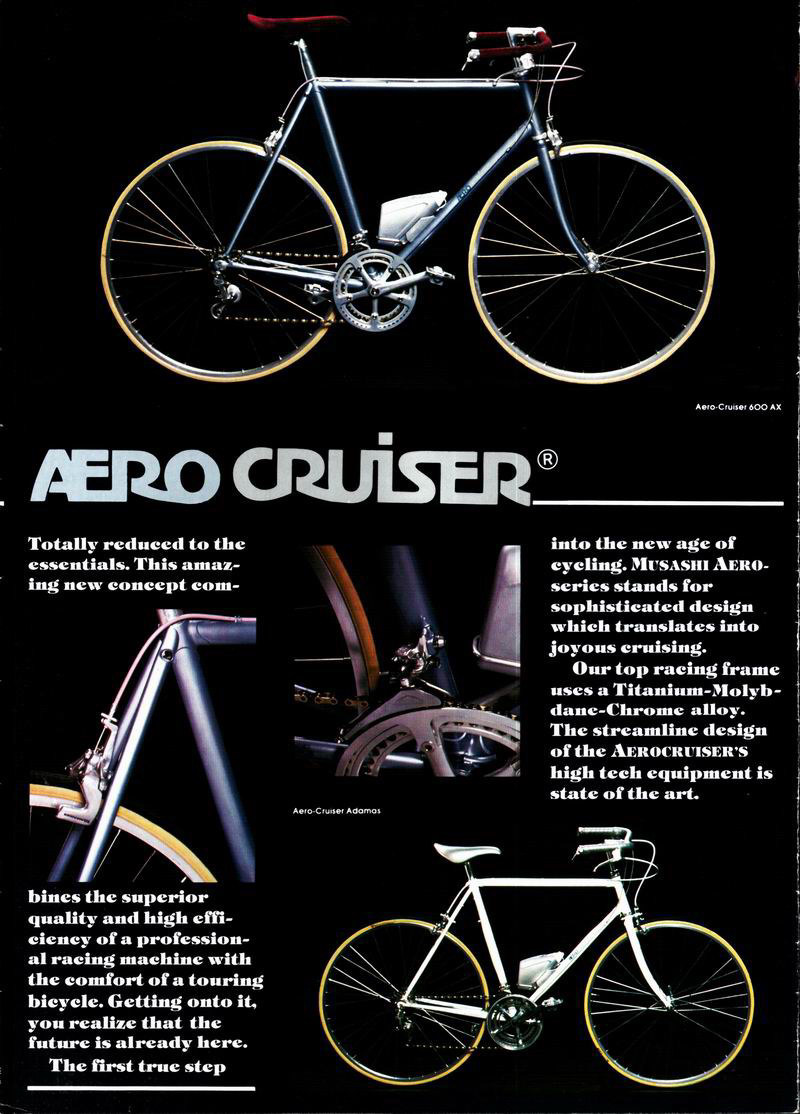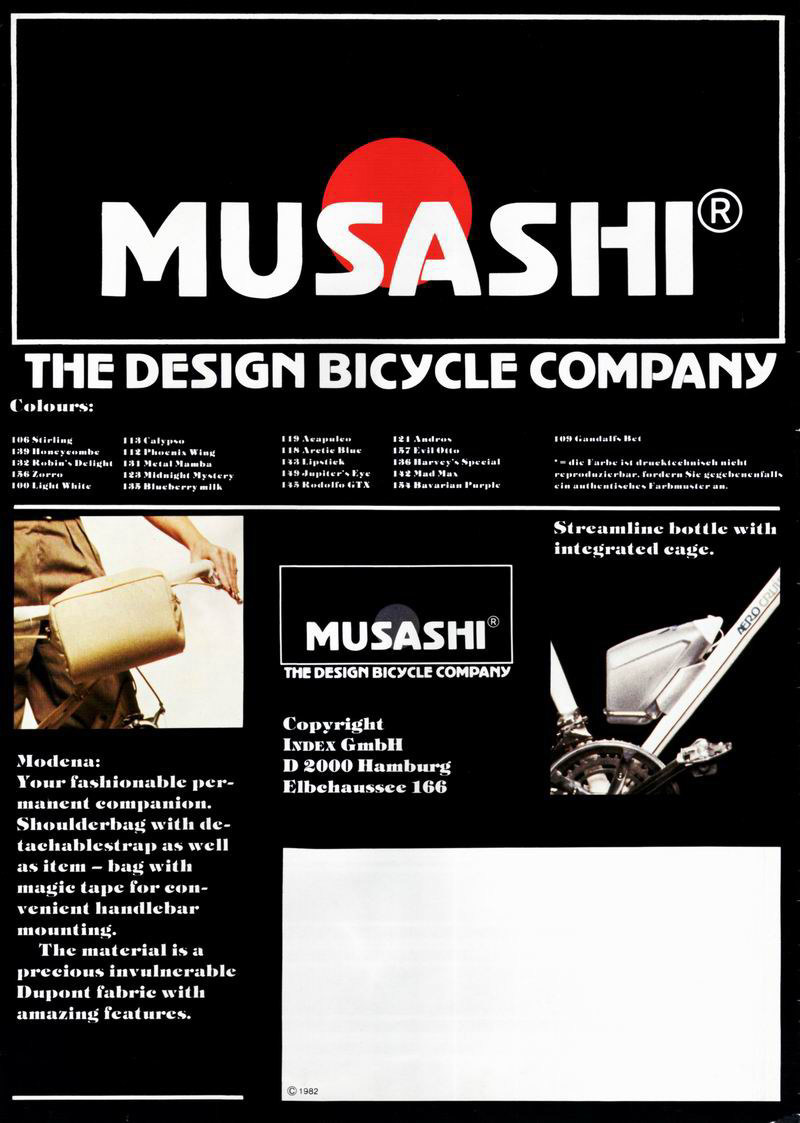 Musashi Design Bicycles were made possible with loads of enthusiasm and by collective hard work of many people.
Some of them are mentioned here by chronological order:
Wolfgang Jordan - for many years Wolfgang was obsessed by the idea to create a bamboo bicycle and thus became the initiator of the Musashi Design Bicycle Company.
Harry Bleckert - Harry was inspired by Wolfgang's idea and by his enthusiasm. Harry founded the Musashi Design Company. He was motor und catalysator for development and production of all models.
Katrin Zedler - Katrin is not only the beautiful cover girl but without her compassionate support Musashi would not have become true.
Werner Faßbutter - Werner Faßbutter liked the idea of a bamboo bicycle enough to fund development and production.
Takeo Iagarashi - Igarashi San developed the tubes as manager of Ishiwata tubing company.
Oji San - The president of Hodaka bicycles coordinated production n Japan.
Helmut Taraske - Helmut managed the assembly plant in Hamburg and worked upto 36 hours per day.
Lorenz Kleiber - Lorenz designed the catalog, which would have become so much better if we did not argue with him.
Wolfgang Elfers - Wolfgang was the first enthusiast who purchased a Bamboo Bike and he is using it till today.
Radsport Wulff - Wulff Senior and his sun Torsten Wulff have been retailing our bikes in Hamburg.
Corvinus - Der Fahrradladen was our best customer in Berlin.
Schlote Fahrradgroßhandel - The Hamburg based traditional bicycle distributor was our first wholesale customer.
Last not least the office team: Thomas Beyé, Regina Lehmkuhl, Petra Preuss and Rainer Schmidt.
Many other persons helped realizing the project, some names slipped my memory ...
Important suppliers were: Shimano, Ishiwata, Sakae, Sugino, Fujitsu, CatEye, Panasonic.

---
Bamboo Bike Links:
American Bamboo Society
Berlin Bamboo Bikes
Das Bambusfahrad-Projekt der Grünen Uni
---

Tags: Musashi Bamboo Bikes, Musashi Bamboo Bicycles, Design Bicycles, The Bamboo Machine, Aero Cruiser, Jive
Contact Musashi Design Bicycle Memorial
Imprint: Harry Bleckert, Blekendorf, Germany - Fone: +49 176 4822-3136 - Skype: Harry.Bleckert
last update for this page: January 2020
© 1980 - 2022 by Harry Bleckert